Delectable acorn-fed, free range cured shoulder
Sliced by hand with a knife
5J brand from Jabugo
True pata negra paleta
Size - 3 ounces
The name 5J is synonymous with the finest acorn-fed, free range cured hams and shoulders in the world! Aged for over two years, this Ibérico de Bellota paleta literally melts in your mouth, releasing a symphony of flavors. Ham masters from Jabugo cut each slice by hand with a special jamonero knife for the most authentic sliced Ibérico de Bellota in the world.
Serve these delectable slices on a warm plate with a great bottle of wine to best experience this treasure of Spanish cuisine! Each slice will have a deep maroon color and an enticing aroma that can only be experienced with cured Ibérico meats.
Paleta Ibérico de Bellota dry-cured shoulders are marbled with beneficial fats that bring a rich intensity of flavor, making this the finest of cured meats. Paletas are smaller than the typical jamón and more marbled. Many people prefer paletas, claiming they have a richer flavor than the larger hams.
Ibérico pigs are an ancient breed, only found in Spain. 5J raises its own herd of 100% purebred Ibérico pigs on the oak-tree studded rangelands of western Spain. There they live in family groups, foraging for food and feasting on sweet bellotas, or acorns. During the montanera season, when the acorns are thick on the ground, they can gain ten pounds a day!
This wonderful diet, and all that exercise, means that the meat is marbled with beneficial acorn flavored fats. During the curing process, this fat is transformed into a monounsaturated oil, much like extra virgin olive oil. In fact, there is evidence that eating Ibérico de Bellota will actually lower your cholesterol!
Ingredients
Pure breed Iberico pork, sea salt, seasoning (sodium citrate, potassium nitrate, sodium nitrite).
Nutritional Information
Serving size 1oz. Servings per container about 3. Calories 90. From fat 50. Total fat 6g (8.5%), Saturated fat 2g (9.35%), Cholesterol 10mg (2.9%), Sodium 590mg (23.5%), Total carbohydrate less than 1g (0.5%), Protein 9g, Dietary fiber 0g (0%), sugars 0g. Calcium 1.1%, Iron 5.9%. * Percent Daily Values are based on a 2,000 calorie diet.
All information listed on our website, including nutrient content information, ingredient lists, and information relating to health claims is for informational purposes only and not provided as medical advice. You should carefully read all information in the actual product packaging and labels, including for food allergen, nutrient content and qualified health claims before using or consuming a product. La Tienda does not assume any liability for inaccuracies or misstatements about products.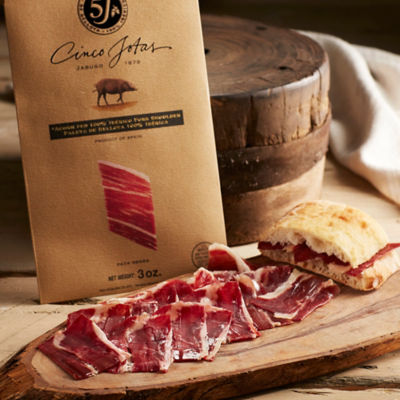 May We Suggest
May We Suggest
"very lean its of jamon, dark color and great flavors"

Krys Rootham - Naperville, IL - Jun 19, 2016

"It brings me back to my beloved Spain"

Henry - Fayetteville, NC - May 10, 2016

"I've already tasted this ham in spain, same brand, and I loved it. Which is why i bought it from La Tienda. I was affraid it wouldn't taste the same, with the long distance shipment and all, but it came super fresh. They pack their packages in a especial way to ensure freshness and authenticity of the products! It's the second time that I order in la Tienda and will probably reorder soon!"

AIDA HAMMOUD WATSON - Arlington, VA - Apr 4, 2016

"Amazing i love it"

Bob Habib - Lake Worth, FL - Mar 27, 2016

"Wonderful acorn taste with a bit of salt taste to it. This brought back memories of Spain. Just awesome!"

MLM - Lake Wylie, SC - Jan 10, 2016

"absolutely exquisite jamon"

cornelius forsythe - somerville, MA - Jun 14, 2015

"A little sampling of the best of the best. What else is there to say? Very natural flavor, you can almost taste the acorns."

KYLE BRUNK - HINSDALE, NH - May 24, 2015

"excellent flavor, some of the best cured ham I have ever tasted, not 5 stars only because of cost"

Bill McCarthy - asheville, NC - Apr 5, 2015

"Very nice iberian ham"

Yolanda de Vicente - Valley Cottage, NY - Mar 8, 2015

"Ok, wow. I ordered this obviously thinking that it would be good, but not this good. I have had Pata Negra de Bellota jamon before, but the Cinco Jotas product is on a different level. Just had it with bread and a Rioja with some friends over. It melts in your mouth, and the depth of flavor is incredible. As you eat it, the flavor just keeps evolving. Buy this; you won't be disappointed."

J. Johnson - Hanover, MD - Feb 25, 2015

"A wonderful taste of Spain!!! Superb!"

Sara Nunez - Chicago, Illinois - Dec 28, 2014

"Unbelievable. Never tasted or smelled anything like it. The flavors come at you in three completely different, unforgettable waves as you chew a slice. The complexity and depth of flavor reminds me of a fine scotch. "

E - Bartlett, IL - Dec 18, 2014

"At $240 a pound it is not for the faint of heart, but at a 3oz pack for a special treat, won't break the bank and it is worth every cent! Thanks"

Jabes Martinez - Lutz, FL - Nov 10, 2014

"Great !!!!"

FCO JAVIER LASANTA - COTO LAUREL, FL - Nov 2, 2014

"Cinco Jotas is by far the top of the line of Iberico Ham. Expertly sliced and a long after taste."

ANTONIO LONGO - ALEXANDRIA, VA - Jun 1, 2014

"Good but very expensive."

Mona Shaibani - Sicklerville, NJ - Apr 13, 2014

"As always the very best, it just seems to go too fast!"

Kathleen S Gaston - Fleming Island, FL - Apr 30, 2013

"excellent, but always a little pricey. thanks"

Romeo Montalvo - Brownsville, TX - Apr 28, 2013

"DELICIOUS FOOD AND BEST QUALITY"

ANA C VENEGAS - SUGAR LAND, TX - Feb 10, 2013