Roasted Piquillo Pepper, Caper, Anchovy and Basil Salad - Ensalada de Pimientos Asados, Alcaparras, Anchoas y Albahaca
This combination of wonderfully strong flavors creates a gourmet salad in a uniquely Spanish style.
Prep Time: 20 min.
Cook Time: 0 min.

This recipe is not yet rated
Add a Review
Ingredients:
20 wood fire roasted Piquillo peppers
1 very small red onion, peeled and cut into rings
1 jar of anchovies, dry and cut into thin strips
1 tbsp chopped garlic
1 tsp sherry vinegar
2 1/2 fl oz extra virgin olive oil
2 tbsp capers, rinsed
20 fresh basil leaves
Preparation:
Toss all the ingredients together. Leave salad to marinate for at least 30 minutes, or up to 2 days. Serve with fresh bread.
Recipe courtesy of Spain GourmeTour magazine.

THIS RECIPE FEATURES: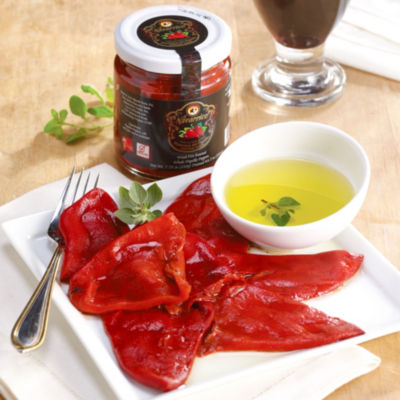 2 Jars of Wood-Fire Roasted Piquillo Peppers from Lodosa
Smoky aroma, intense flavor
The only wood-fire roasted piquillos
Approx. 10 whole peppers
Authentic D.O. Lodosa product
Great for stuffing
All Natural
$23.95
PQ-14-2