Cherry Tomatoes in Torta del Casar Cheese Sauce - Tomates Cherry en Salsa de Torta del casar
Torta del Casar or Torta de la Serena cheeses are unique to Extremadurea -- that land of the Conquistadors. They are very creamy and pungent and do not travel well. If either is unavailable you may substitute brie, although its flavor is much milder.
Makes 4 servings.
Prep Time: 15 min.
Cook Time: 25 min.

This recipe is not yet rated
Add a Review
Ingredients:
1 lb 2 oz cherry tomatoes
7 oz Torta del Casar or Torta de la Serena cheese
1/2 cup light cream
1/2 cup milk
Fresh basil
Thyme
Pinch rosemary
Preparation:
Melt the Torta del Casar or Serena cheese (these are very creamy cheeses that are practically liquid at room temperature) with the milk and cream over very low heat or in a double boiler, stirring all the time to prevent it from separating. Season with freshly-chopped basil and a pinch of rosemary and thyme, using only tiny quantities. Taste. Arrange the mini tomatoes on the plates, pour the cheese sauce over or use it as a dip.
By María Jesús Gil de Antuñano
Recipe courtesy of Spain GourmeTour magazine.

THIS RECIPE FEATURES: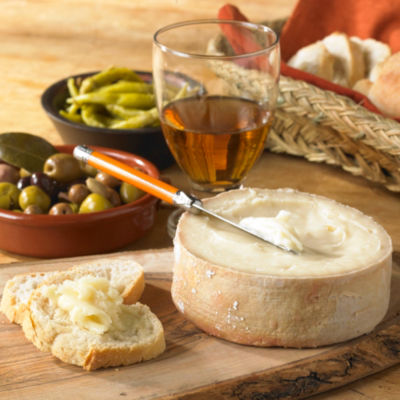 Torta del Casar Soft Cheese, D.O.
Intense, full-bodied flavor
Raw sheep's milk cheese, fresh from Spain
Soft and creamy, serve with a spoon!
100% guaranteed fresh, monthly shipments
Made with vegetable rennet
All Natural
$37.95
CS-86
OUT OF STOCK
Email me when available