Jamón Serrano and Manchego Cheese Sandwich - Bocadillo de Jamón Serrano y Queso Manchego
Whenever we arrive in Barajas airport in Madrid, we immediately head over to one of the many cafes and order a café con leche, then a delicious bocadillo de jamón with thin slices of Serrano ham and Manchego cheese on a fresh baguette. Add some extra virgin olive oil and piquillo peppers for a sandwich that is quintessentially Spanish - fresh, simple and delicious!
Makes 2 servings.
Prep Time: 10 min.
Cook Time: 0 min.

Average Customer Rating: 5 out of 5
based on 1 reviews
Read Reviews / Add a Review
Ingredients:
1 loaf of freshly baked Galician bread
6 ounces thinly sliced Jamón Serrano
6 ounces thinly sliced Manchego cheese
1 jar wood fire roasted piquillo peppers (optional)
Extra virgin olive oil
Preparation:
Slice baguette lengthwise.
Drizzle olive oil over interior of baguette.
Arrange thin slices of jamón serrano on bottom half of baguette, followed by thin slices of Manchego cheese, then piquillo peppers (optional).
Cut into 2 pieces and serve.
THIS RECIPE FEATURES: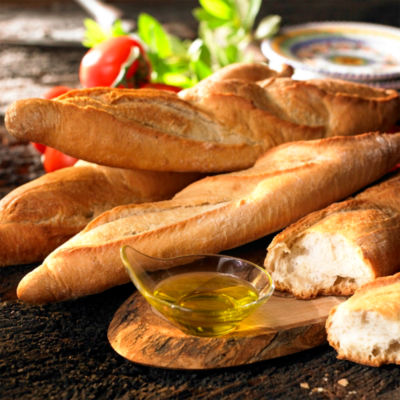 4 Loaves of Traditional Galician Bread - Barra Gallega by Peregrino
Four loaves, about 16 inches long
Pre-baked in Lugo, Galicia
Crusty, airy loaves of white bread
Ready in 10 minutes
All Natural
$17.95
BD-37-4
SALE PRICE: $15.95